Multi Trolley is an innovation in moving heavy items, rather than lifting and carrying, simply mount the trolley onto the item instead.
Advanced Crates is the official reseller for multi-trolley in the UK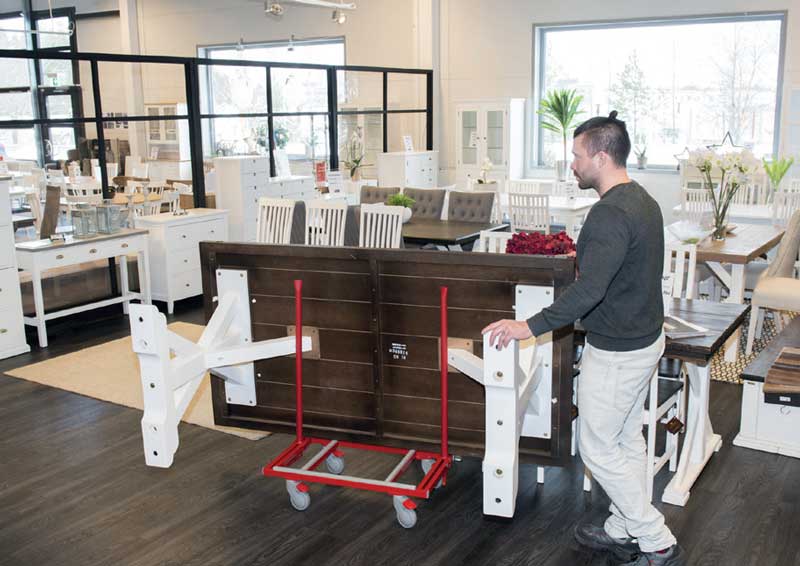 Innovate
Multi Trolley simplifies the job at hand. One person with a Multi Trolley does the work of two people. This means faster and more cost-effective handling when moving heavy and awkward furniture.
– Simply tilt the table until the trolley rests back onto its wheels.
Simplify
Multi Trolley is an innovation. Rather than heavy lifting and carrying, simply mount the trolley onto the item instead. This easy method is both unique and patent-protected.
– The Multi Trolley can be mounted onto all sorts of items inc. large conference tables.
Improve
Multi Trolley improves your working environment. Its ergonomic technique reduces the risk of injuries and fully complies with EEC manual handling requirements (90/269/EEC).
– Move furniture easily and safely through the office
Because!
"Research shows that 4 out of 5 people suffer from back pain at some point in their lives. A job involving heavy lifting significantly increases the likelihood of back injury. Multi Trolley's unique and ergonomic working method, in the form of a trolley, saves both your back and your money."
Peder Jensen
Multi Trolley founder
More information available at multitrolley.com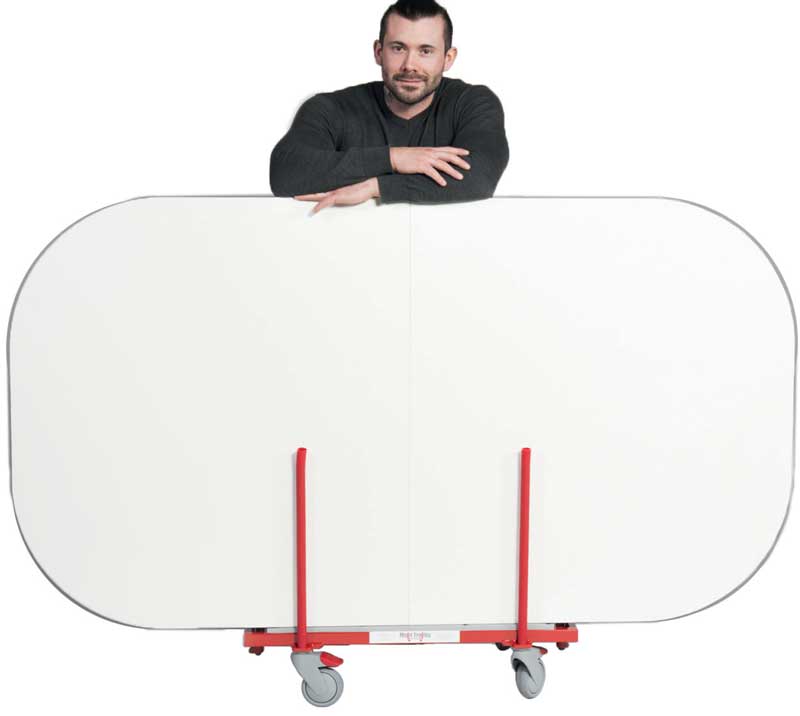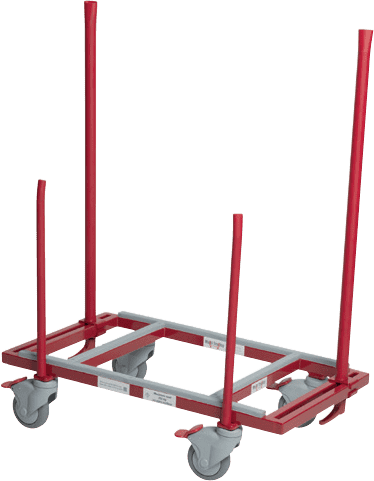 Technical Specifications
Length: 780 mm
Width: 420 mm
Adjustable posts: 760 mm
Fixed poles: 420 mm
Weight: 12 kg
Max load: 250 kg / 550 lbs
Manufactured in 2 mm steel profile
Need Crates Now?
If you only need a few crates for personal use or storage, you can buy our pre-made crates online today from our shop.
Contact us
If you would like any information on our products or services, then don't hesitate to get in touch.
Delivery and Collection
Advanced Crates supply some of the biggest and best commercial relocation and crate hire companies in the UK with crate personalisation and manufactured crates. We have a selection of crates made and ready to be delivered to you. Our fleet of vehicles and close collaboration with couriers means that we are capable of delivering a few or many hundreds of crates to you at a very competitive price. We offer quick delivery on items that are in stock in our store – Bespoke manufacture delivery timeframes will be discussed with you when ordering.
Our plastic container boxes are ideal for commercial relocation companies, crate hire companies and retail & distribution. And if you need to top-up your pool or crates or retail totes – we can usually have crates in our shop with you next day. With help from our partners, we have service centres across the UK so we are never far from where you need us.
London has grown to be a massive city – the biggest city in the UK. As such, a high percentage of products Advanced Crates deliver are in and around London and there are special considerations to make. Our fleet of vehicles are LEZ (low emission zone) compliant and thus they are able to deliver your products within the LEZ (Low emission zone). We deliver to Central London, West London, East London and South London which includes the London boroughs; Barking and Dagenham, Barnet, Bexley, Brent, Bromley, Camden, City of London, City of Westminster, Croydon, Ealing, Enfield, Greenwich, Hackney, Hammersmith and Fulham, Haringey, Harrow, Havering, Hillingdon, Hounslow, Islington, Kensington and Chelsea, Kingston-Upon-Thames, Lambeth, Lewisham, Merton, Newham, Redbridge, Richmond-upon-Thames, Southwark, Sutton, Tower Hamlets, Waltham Forest, Wandsworth.
AdvancedCrates deliver to all cities in England which includes : Bath, Birmingham, Bradford, Brighton and Hove, Bristol, Cambridge, Canterbury, Carlisle, Chester, Chichester, Coventry, Derby, Durham, Ely, Exeter, Gloucester, Hereford, Kingston upon Hull, Lancaster, Leeds, Leicester, Lichfield, Lincoln, Liverpool, City of London, Manchester, Newcastle upon Tyne, Norwich, Nottingham, Oxford, Peterborough, Plymouth, Portsmouth, Preston, Ripon, Salford, Salisbury, Sheffield, Southampton, St Albans, Stoke-on-Trent, Sunderland, Truro, Wakefield, Wells, Westminster, Winchester, Wolverhampton, Worcester, York.
Cities in Scotland: Aberdeen, Dundee, Edinburgh, Glasgow, Inverness, Stirling
Cities in Wales: Bangor, Cardiff, Newport, St Davids, Swansea
Counties in England:
Bedfordshire, Berkshire,Buckinghamshire, Cambridgeshire, Cheshire, Cornwall*, Cumbria, (Cumberland)Derbyshire, Devon, Dorset, Durham, Essex, Gloucestershire, Hampshire, Hertfordshire, Huntingdonshire, Kent, Lancashire, Leicestershire, Lincolnshire, Middlesex, Norfolk, Northamptonshire, Northumberland, Nottinghamshire, Oxfordshire, Rutland, Shropshire, Somerset,Staffordshire, Suffolk, Surrey, Sussex, Warwickshire, Westmoreland, Wiltshire, Worcestershire, Yorkshire
Counties in Scotland:
Aberdeenshire, Angus/Forfarshire, Argyllshire, Ayrshire, Banffshire, Berwickshire, Buteshire, Cromartyshire, Caithness, Clackmannanshire, Dumfriesshire, Dunbartonshire/Dumbartonshire, East Lothian/Haddingtonshire, Fife, Inverness-shire, Kincardineshire, Kinross-shire, Kirkcudbrightshire, Lanarkshire, Midlothian/Edinburghshire, Morayshire, Nairnshire, Orkney, Peeblesshire, Perthshire, Renfrewshire, Ross-shire, Selkirkshire, Shetland, Stirlingshire, Sutherland, West Lothian/Linlithgowshire, Wigtownshire
Counties in Wales:
Anglesey/Sir Fon, Brecknockshire/Sir Frycheiniog, Caernarfonshire/Sir Gaernarfon, Carmarthenshire/Sir Gaerfyrddin, Cardiganshire/Ceredigion, Denbighshire/Sir Ddinbych, Flintshire/Sir, Fflint, Glamorgan/Morgannwg, Merioneth/Meirionnydd, Monmouthshire/Sir Fynwy, Montgomeryshire/Sir Drefaldwyn, Pembrokeshire/Sir Benfro, Radnorshire/Sir Faesyfed