Our bespoke crate manufacturing is ideal for many areas such as commercial relocation & removals, crate hire, retail & distribution, logistic, storage & self-storage, facilities management and much more. There are many benefits to having crates in a particular colour with branding.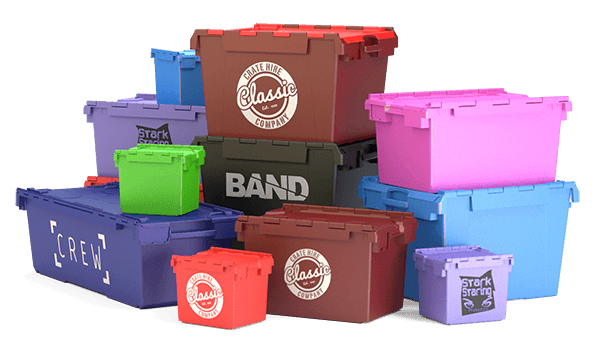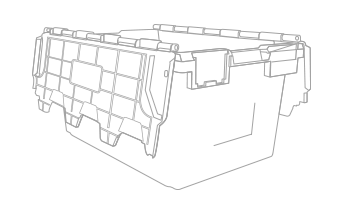 Easily Identifiable
For commercial relocation companies – the ability to quickly spot their crates during big moves is vital. If you can easily see your plastic boxes, they will be easily seen by new and existing customers too.
Obvious Ownership
As a Logistics and distribution company, your crates may be among many others, so having your branding on the side means that lost containers will be able to be returned to you quickly. For self-storage companies, obvious ownership is important, so people do not take them from your storage facility and will act as promotion for your business when people see them.
Advertising
What better way to advertise your company or brand than by having your logo or website on the side of your crates? Branded products help new and prospective customers to get in touch easily.
Clever by Design
Our crates clever design means the base of the crates fits securely onto the lid to stop it moving during transit and they can be nested when not in use to save on storage space.
The containers heavy duty plastic construction is built to protect and when increased security is necessary, use our security seals.

Need Crates Now?
If you only need a few crates for personal use or storage, you can buy our pre-made crates online today from our shop.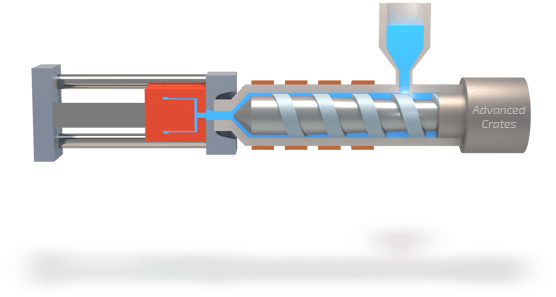 The Crate Manufacturing Process
The process of manufacturing your new crates are detailed below. The steps are:
Design – this includes deciding which colour you want your crates and lids (if applicable) and which optional features you desire, such as drainage holes
Injection molding – Read more below on the process
Personalisation – Add your logo/website details on the crate
Read More +
Crate Manufacture – Injection Moulding
Our crates are made with a process called injection moulding. The injection moulding process in it's simplest form is based around having a mould/die for the item you want to produce and the molten plastic is then injected into the mould at high pressure, to ensure the mould is properly filled.
Due to the extremely high force that is exerted on the moulds during the injection moulding, the moulds are usually made from metal; either steel or aluminium and are machined very precisely to form the features of the part you are manufacturing.
Simple items can be moulded with a two part mould, where both parts are forced together during the injection phase to create a sealed unit for injecting the plastic. The moulds are forced together at a pressure of many tonnes in order to keep the mould sections from separating while the plastic is forced into the mould at extremely high pressures.
Even though crates seem simple, our items are slightly more complex and need moulds with more than two sections in order to be able to release the moulded item after moulding.
Recycled Plastic Crates
You have a choice of colours when using virgin material, but if you need an even greener, more eco-friendly option, we also produce recycled crates using 100% reground plastic.
Recycled crates are only available in black due to the variety of colours that may be recycled to make the crates.
Replace Cardboard. Save Trees.
Our plastic ALC container crates can be made from 100% recycled plastic for the super-eco-friendly among us. They are available in black.
With an average life-span of 10 years and 100% recyclability, our plastic crates are pretty green. Even when they're blue.
Advanced Crates – Leaders in Manufacturing
Our plastic crates are versatile and used in many areas, whether you call them plastic boxes, storage boxes, plastic containers, moving crates, container crates, ALCs (Attached Lid Containers) or anything else; we can help advance your business and ideas.
If you would like more information on our plastic crate manufacturing, need a quote, or advice on our services, then don't hesitate to get in touch.
See our full range of crates below.